Welcome to the Town of Herbert
A quiet, friendly community situated in the heart of Saskatchewan's wheat belt along the TransCanada Highway, 47 km east of Swift Current. The town is fully serviced offering health, education, recreation and spiritual services while catering to a large surrounding agricultural area.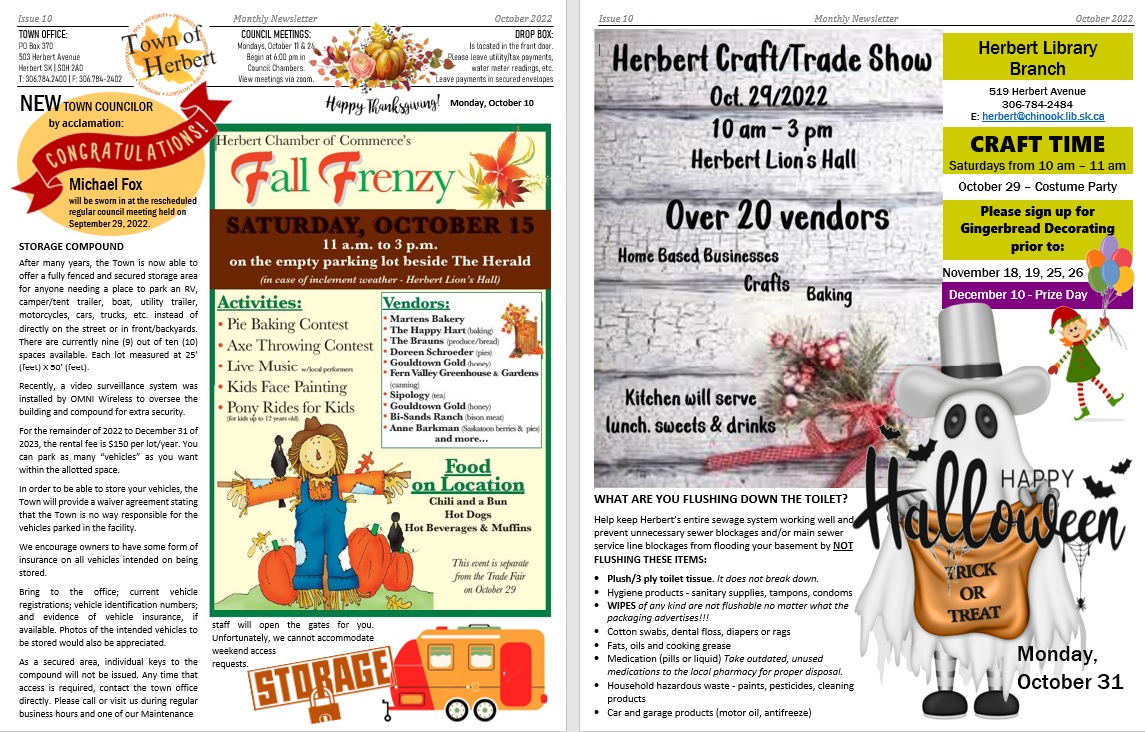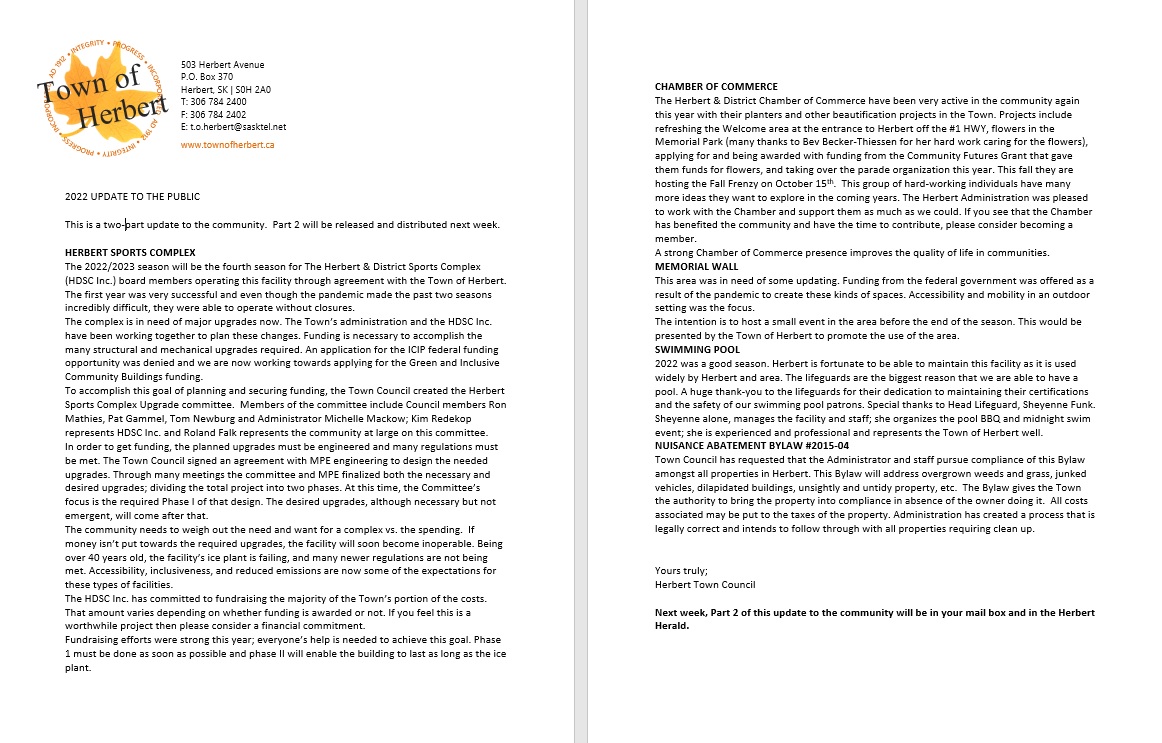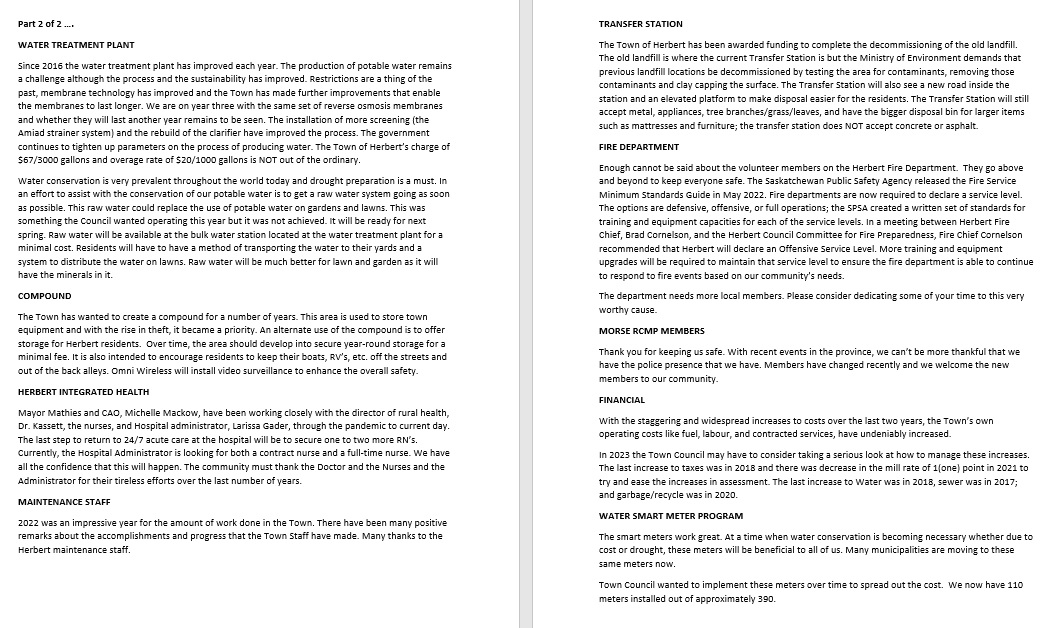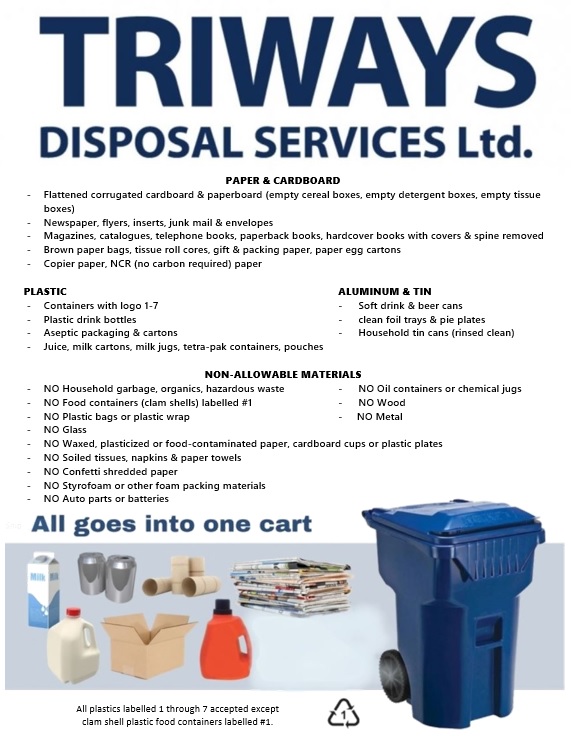 Bulletin
TRANSFER STATION
The official closing for the season is November 1st - April 30th.
WATER SERVICE DISRUPTION
The Town is undergoing an unexpected water service disruption. We are working on the issue & hope to have an update later today.
Please manage water usage; do not use water that isn't a necessity, such as laundry, etc.
We apologize for the inconvenience and appreciate your patience.
NEW CEMETERY PLAQUE
Potter's fields originated from biblical times, but are commonly known as areas where those who couldn't afford to buy a grave would be buried (sometimes called the "friendless poor").
Today, the Town has endeavoured to remind us, that even though there are many unmarked graves in our cemetery, we haven't forgotten them.
TREE MAINTENANCE
Shortly, Lee's Tree Care will be in Herbert to do regular maintenance on Town trees. but as part of their annual visit, they will also tend to residents' trees upon request.
If you have trees on your property that require maintenance or removal, just call us at the office & we'll add your name to the Tree List.
The arborist will call you to make possible arrangements &/or provide you with a quote for the service required.
2ND CALL FOR NOMINATIONS
A second call for nominations for one (1) Councilor for the Town of Herbert has been made from September 1, 2022 thru to September 14th, 2022.
If interested, please call or visit the Town office for more information. The required forms are available for pick up at the office.
Election: Wednesday, October 5, 2022, from 9 am - 8 pm in Town Council Chambers.
RAPID ANTIGEN TEST KITS
The Town office still has a supply of Self-Test Kit available.
*First come first serve until the supply is distributed.
**One kit contains 5 tests.
How Property Assessment Works in SK
Click on the highlighed link to view SAMA's informational pamphlet regarding: How Property Assessment Works in Saskatchewan. It clarifies SAMA's role in the assessment process.
Once the municipal assessment roll has been completed, homeowners are given the opportunity to appeal a property assessment. However, it's important to understand that the appeal process is about appealing an error in the assessed value of your property or classification of your property; homeowner's cannot appeal their tax levy.

For a better understanding, click on the following link: Assessment Appeals Guide in Saskatchewan for Citizens
ASSESSMENT ROLLS
All property must be assessed. If you have property within your municipality that does not have an assessed value, you will need to contact the Saskatchewan Assessment Management Agency (SAMA).
SAMA Central Office 200-2201-11th Avenue Regina SK S4P 0J8 Tel: 306-924-8000 800-667-7262 (in Saskatchewan) Fax: 306-924-8070 Web site: www.sama.sk.ca
Triways Disposal
DID YOU KNOW...
Here is an example of what NOT to put in your recycle containers:
(Styrofoam, waxed cardboard and medical masks!)

We are finding more and more medical masks and gloves in our recycle loads.

Please check Triways website for allowable items; triwaysdisposal.com

Report Streetlight Outages
The Town having to report streetlight outages is a thing of the past. SaskPower has now made it very easy for anyone to report a streetlight outage using their online reporting tool via www.saskpower.com. Simply select the Outages tab located at the top of the homepage > Power Outages > Report an Outage > online reporting tool > enter Herbert > click upon the appropriate street light icon, input any notable information, & follow remaining prompts to complete the submission process.
Office Hours
Monday - Friday
8:30 a.m. - 12:00 p.m.
1:00 p.m. - 4:30 p.m.